2017 Military Appreciation
SHANE'S RIB SHACK SALUTES THE MILITARY ON VETERANS DAY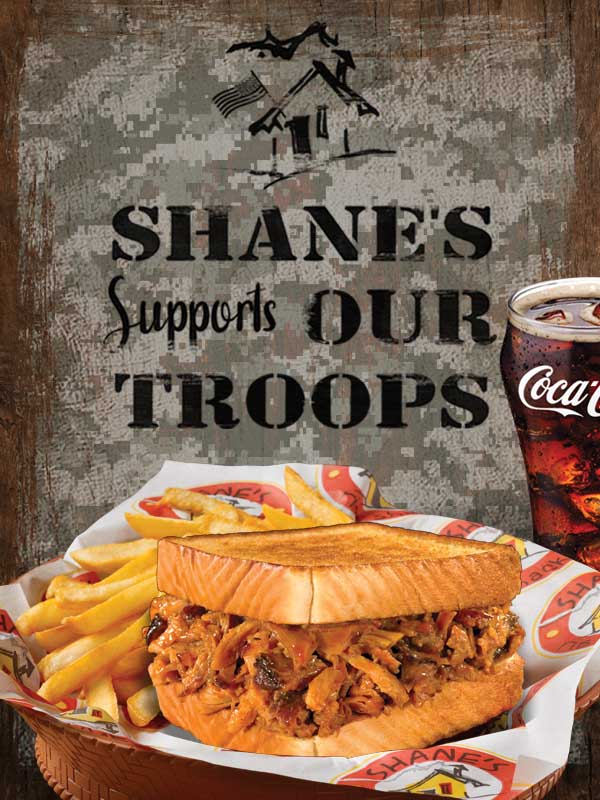 Shane's Rib Shack shows gratitude and recognizes Military personnel with a FREE Big Dad® BBQ Pork Sandwich
ATLANTA, GA (October 27, 2017) This Veterans Day, Shane's Rib Shack locations* will honor America's heroes with Military Appreciation Day. All active and retired military personnel will receive a complimentary Big Dad® Sandwich Combo on Saturday, November 11, 2017. A Big Dad® consists of slow-smoked, freshly chopped BBQ pork, sandwiched between two slices of toasted Texas Toast. Each Combo will include a 20-oz. beverage and a delicious southern side. *See below for a list of participating locations.
Founder, Shane Thompson, and his family believe members of the armed forces have answered a special calling to defend the freedom of our citizens. Shane's grandfather, fondly referred to as "Big Dad", served in the Military during WWII. Shane's Rib Shack looks forward to honoring all military personnel for their service and dedication to our country. Shane says, "Giving back is and always will be a number one priority every day at Shane's Rib Shack."
In addition, Shane's Shack Crew members will be wearing special edition "We've Got Your 6!" themed T-shirts, and special signage will be displayed honoring those who have served. The sentiment, "We've Got Your 6!" originated in WWI among fighter pilots and refers to having someone's back.
Shane's Rib Shack has also partnered with the Rob Jones Journey, to assist in raising awareness for wounded veteran charities. During Rob Jones's tour of duty, he was stationed in Afghanistan with the Marine Corps, where he encountered an IED in Taliban territory. The injury resulted in the loss of both of his legs. During his recovery, Rob was fitted with prosthetics and took on the challenge of learning how to walk again. Rob is currently planning to compete in a back-to-back marathon challenge, in which he will run 31 marathons in 31 days in 31 major cities! On November 8, 2017, Military Veteran, Rob Jones, will run through Atlanta, GA. Shane's Rib Shack will be proudly cheering on this American hero, and be providing meals for Rob Jones and his team, post-race. To read more about Rob Jones Journey and donate, visit: http://www.robjonesjourney.com.
*Participating Locations List (Click link to view)
Connect with Shane's Rib Shack on Facebook at www.facebook.com/shanesribshack
or Instagram at www.instagram.com/shanesribshack to learn about ways Shane's supports the community, photo contests, and exclusive offers for our loyal guests! For more information regarding Military Appreciation Day, or to find a participating Shane's Rib Shack near you, please visit www.shanesribshack.com/MilitaryAppreciation2017. *Proof of service required.
###
About Shane's Rib Shack
Shane's Rib Shack is a true American rib shack, known for its slow-cooked ribs, hand-chopped pork, chicken, and many southern sides to complement each plate. The Original Shack was founded in 2002, in McDonough, GA. by Shane Thompson, who started the restaurant with his grandfather's secret BBQ sauce. With the support of his wife, Stacey, Shane's Rib Shack was born and became a franchised restaurant in 2004. Shane's Rib Shack has grown to become the country's model concept for fast-casual barbecue. In 2015, Shane's Rib Shack was named one of the Daily Meal's Best BBQ Chains and was featured in the Wall Street Journal. Shane's Rib Shack was recognized in the Top 100 Movers and Shakers by FastCasual.com. Shane's Rib Shack currently operates 75 locations. For more information, visit www.shanesribshack.com
If you would like more information regarding Shane's 2017 Military Appreciation Day, please contact Arianne Nevdahl at (404)295-3299 or anevdahl@shanesribshack.com.