Corporate Catering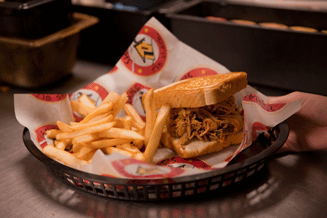 Shane's understands the importance of your corporate events going off without a hitch. These events are usually held to highlight a milestone within the organization, and the quality of the event is important in conveying an important aspect of your business in the right tone. With so much to plan including location, entertainment, equipment rentals, and parking just to name a few, the quality and arrival of the food should be the last thing on your mind.
Shane's is here to take all your catering worries away! When it comes to deciding between possible corporate caterers, look no further than your local rib shack for the service and quality you desire. We pride ourselves on providing you with fresh and delicious catered barbeque that will help your event succeed. If you are looking for gluten free catering, we have you covered there as well. Whether you are celebrating a brand new hire, company growth, or you just landed that brand new client, Shane's Rib Shack is here to fulfill all of your corporate catering needs. Your employees are going to experience a whole new level of appreciation when they bite into our barbecue.
Call us today to find out how we can cater to the specific needs of your organization and make your event one that will stand out from all the rest.