Gluten-Free Catering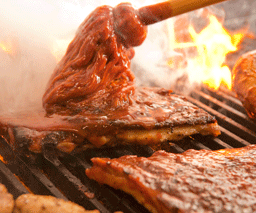 For a lot of people, gluten restrictions place limits on the types of food they can enjoy, what restaurants they can eat at, and even their enjoyment levels at various social events. Gluten allergies and sensitivities affect the way a lot of people live these days, and it is getting to a point where it is impossible to ignore the role that gluten plays in our everyday lives. Let's face it; so much of our social lives revolve around really great food. Shane's Rib Shack understands this idea, and we don't want you to exclude anyone who might be attending any function that we cater.
Luckily, now you don't have to. In an effort to be able to serve as many people as possible, regardless of gluten restrictions, we now offer Gluten-Free Catering options. With catering from Shane's Rib Shack, your guest will not have to worry about what they are eating and will be free to fully enjoy the function they are attending. Now more than ever, even more people can come to love the great taste of Shane's Barbeque.
Contact us today by calling the location nearest you or fill out an online catering inquiry to find out how we can cater a menu specifically for you and all of your gluten-free guests.