Gluten Free Menu
Please let our staff know if you are ordering from our Gluten Free Menu.
BBQ Sauces
Shane's Original BBQ Sauce
Shane's Spicy BBQ Sauce
Shane's Sizzlin' Hot BBQ Sauce
Shane's Honey BBQ Sauce
Shane's Carolina Mustard BBQ Sauce
Plates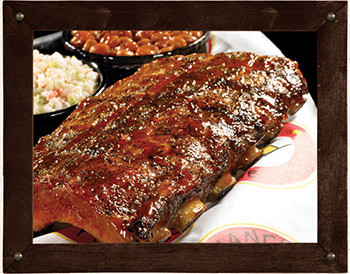 ** Plates are only Gluten Free if ordered without Texas Toast.
Chopped BBQ Pork
Chopped BBQ Chicken
Smoked Half Chicken
Baby Back Ribs
Salads
** Salads are only Gluten Free when ordered without crispy onions and Texas Toast.
Chopped BBQ Pork
Chopped BBQ Chicken
Grilled Chicken
Sides
Baked Beans
Coleslaw
Green Beans
Side Salad
At Shane's a top priority is always the health and safety of our guests. As part of our commitment to you, our gluten free menu is based on product information provided by Shane's approved food manufactures. Every effort is made to keep this information current. However, it is possible that ingredient changes and substitutions may occur due to the differences in regional suppliers, recipe revisions, preparation techniques, and/or the season of the year. We also have been unable to investigate sources of cross-contamination.
Certain menu items may vary from restaurant to restaurant and may not be available at all locations. Therefore, we cannot be held responsible for individual reactions to any products. We highly recommend that our guests with food allergies or special dietary needs consult with a restaurant manager prior to placing an order to ensure the posted information is accurate and represents the menu items sold at that particular location. Limited time offers, test products, or regional items have not been included in the gluten free menus.