The Sauce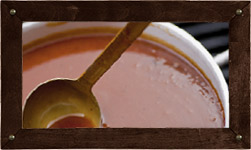 Shane's Original BBQ sauce is a blend of all styles of BBQ. Sweet tomato, tangy vinegar, mustard, and spices in perfect southern harmony… Heck, it's so good you'll want to drink it!
Also, try our specialty BBQ sauces:
Honey BBQ Sauce
Spicy BBQ Sauce
Sizzlin' Hot BBQ
Carolina Mustard BBQ
You can purchase our sauce in stores or online in our online store!
Think you can keep a secret???
​