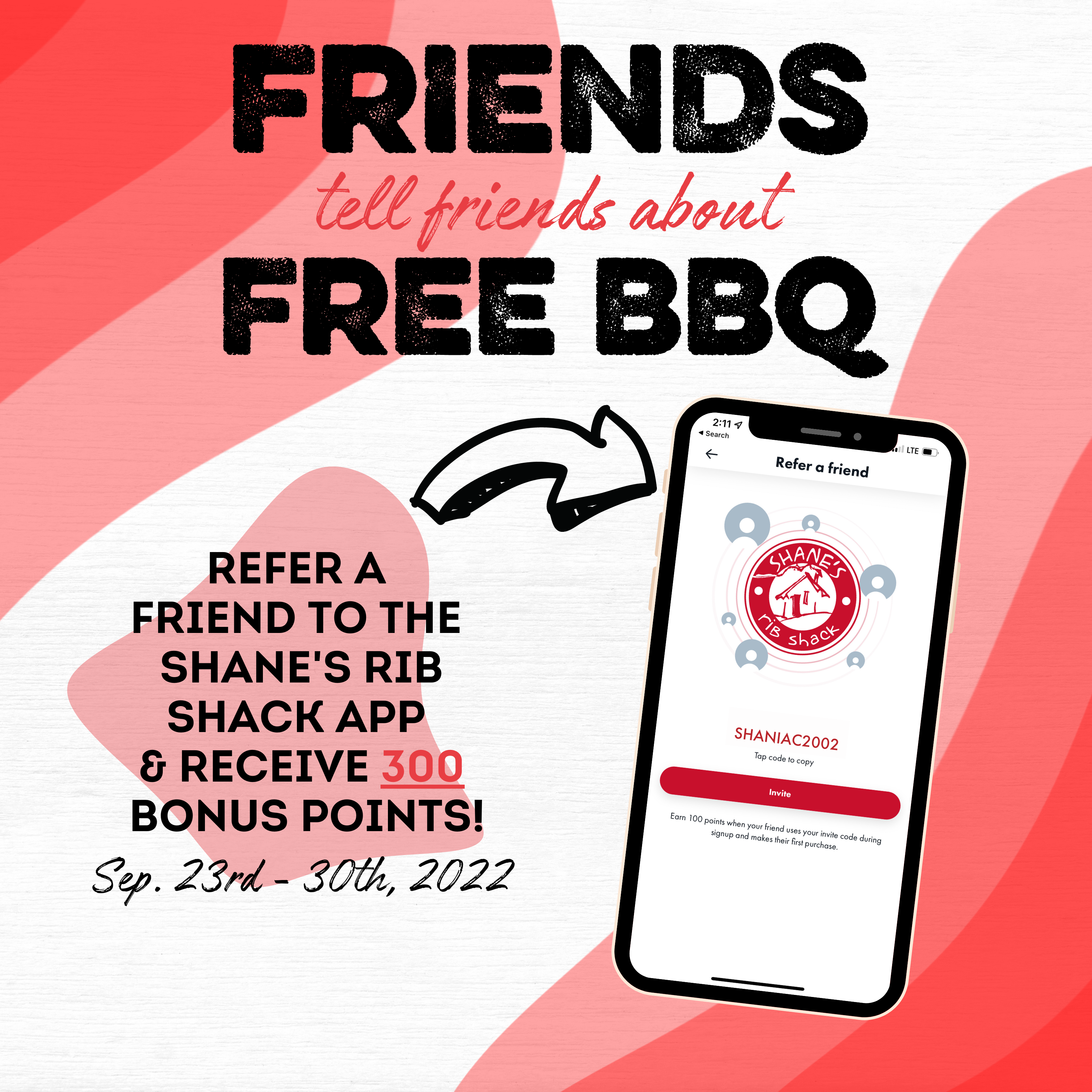 Refer a Friend!
Sept 23 - Sept 30, 2022
How it works: From September 23-September 30, 2022, receive 300 bonus points in-app. After this promotional timeframe, every friend referral will be worth 100 bonus points. Guest referred must place an order & check-in for you to earn bonus points. Referral code must be entered before creating a Shack Reward's account. 
HOW TO GET INVITATION CODE: 
Go to "More" tab of the Shane's App Home Screen. 
Go to the "Refer a Friend" tab. 
Tap to copy your unique invitation code to share with friends or tap "invite" button to instantly share code via text, email and more.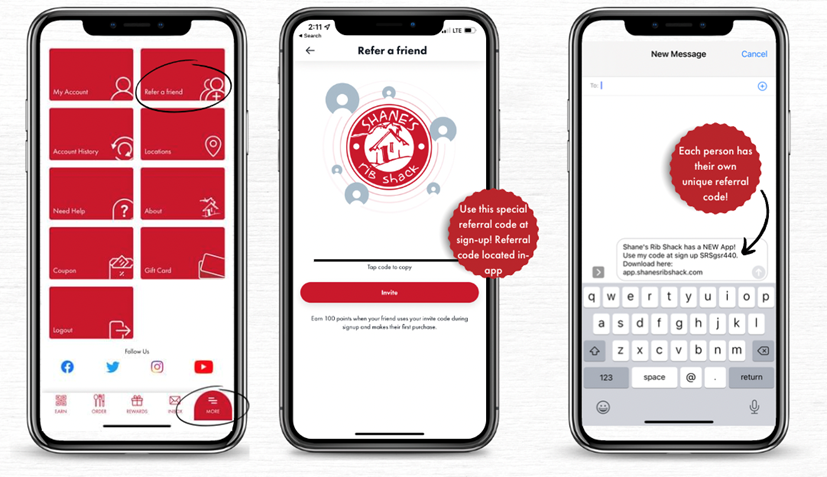 Everything's Better with Friends... Especially BBQ!
1. Download the Shane's Rib Shack app in the app store.
2. Sign up for the Shack Rewards program (if you are a member of our previous loyalty program, make sure to tap "Transfer Shack Rewards" at sign up or simply log in if you've created an account via our online ordering website).
3. Select your 'favorite location' so that you don't miss any exclusive offers or updates from your local shack. 
4. Turn on Notifications & Opt-in to Text Alerts (SMS) - this is how you will stay in the know! (Confirm these settings in "My Account" in the app). 
5. Earn Rewards - earn automatically when ordering thru the app or online as long as you are signed in to your account. When ordering in-store, scan the barcode on the bottom of your receipt after placing your order or scan your app "Earn" QR code at the register. You'll Earn 10 points for every $1 you spend at the Shack!
6. Use your points to redeem items of your choice, whenever you choose! Rewards can be redeemed in-app, online, or in-store. 
To Redeem in-app or online: add the items to your cart and select the offer from the dropdown menu at checkout or apply your coupon code. 
To Redeem in-store: Navigate to the "Rewards" tab in the app. Tap "Redeem" on the desired reward, then "Redeem Now" & scan your QR code at the register.
7. Repeat - the more you eat, the more you earn!