tHIS YEAR, We made shopping a bit easier and more rewarding! Treat your favorites to their favorites this holiday season! Get a $5 in-app reward for every $25 purchased in gift cards November 14th - December 24th, 2022. #Holidaybonus #GiveShanesGETShanes
How It Works:
*Valid in-store and in-app. Purchase gift cards at a Shane's Rib Shack location (in-store) or send digital gift cards in the Shane's Rib Shack App between 11/14/22 - 12/24/22 and receive a $5 in-app Reward for every $25 purchased. Reward(s) will be gifted 24 hours after purchase. See details below. 
In-App Digital Gift Cards: Individual Gift card purchases must greater than or equal to $25 to qualify. 
When sending digital gift cards in-app, recipient MUST have the Shane's app. Email address must match email associated with recipient's app Shack Rewards Account. See below for how to purchase a Gift Card in-app. 
In-Store: Gift card's may be purchased in varying denominations to qualify for the #holidayBonus promotion, as long as their sum is equal to or greater than $25 in a single transaction. 
*For in-store purchases, guest must check-in** at the register at the time of order -or- scan their receipt barcode into their Shack Rewards app after ordering. 
**To Check-in at the Restaurant, Shack Rewards Members may: 
1) Scan their 'EARN' QR code located in the 'EARN' tab of the app. Scan at the time of ordering. 
       - or - 
2) Scan the barcode found at the bottom of receipt into the "EARN" tab of the app. Users without smart phones may also log in and enter their receipt barcode online at www.shanesribshack.com/rewards 
For Help, tap "More" --> "Need Help" --> "App Feedback" in the Shane's App and submit a request to App Support. 
Valid only on gift cards purchased at a Shane's Rib Shack location or in the Shane's Rib Shack mobile app (app.shanesribshack.com). Gift Cards purchased via 3rd Party Partners are not eligible for promotion and will not qualify for #holidayBonus rewards. 
Per transaction Maximums on Gift Card Purchases: In-store: $200; In-app: $100. Multiple transactions may be needed when purchases exceed maximums. 
Rewards Details:
$5 OFF #HolidayBonus
Reward will be gifted 24 hours from purchase, located in the "REWARDS" tab of the app. Reward is not a gift card.  
Reward(s) will be gifted in $5 increments. For example, if purchase $75 in gift cards, guest will receive 3) individual $5 Rewards in their app account.
Reward may be redeemed when ordering in-store, in-app, or online (order.shanesribshack.com). One per transaction when ordering in-app and online. May redeem up to three rewards in-store, per transaction.  
Reward not valid for redemption on catering orders.
Must use full value of Reward at redemption. No carryover, any unused balance of reward will be forfeited.
All #holidayBonus $5 Rewards valid through March 31, 2023. 
No substitutions, cash redemption, or transfer of Rewards permitted. 
See reward for redemption instructions (located in "REWARDS" tab of app). 
*Click here for step by step instructions on sending digital gift cards in the app, Redeeming $5 reward offer in-store.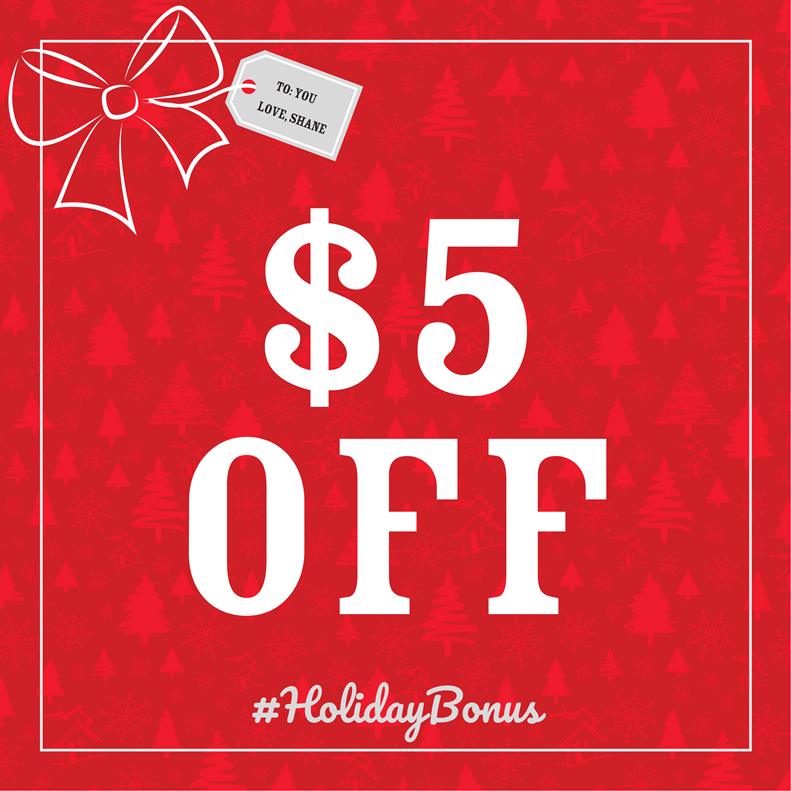 Get a $5 app reward for Every $25 purchased in Gift Cards
Offer Valid on Gift card purchases November 14th - December 24th, 2022. Must Check-in*