10th Annual Holiday 'Wait & Win' Giveaway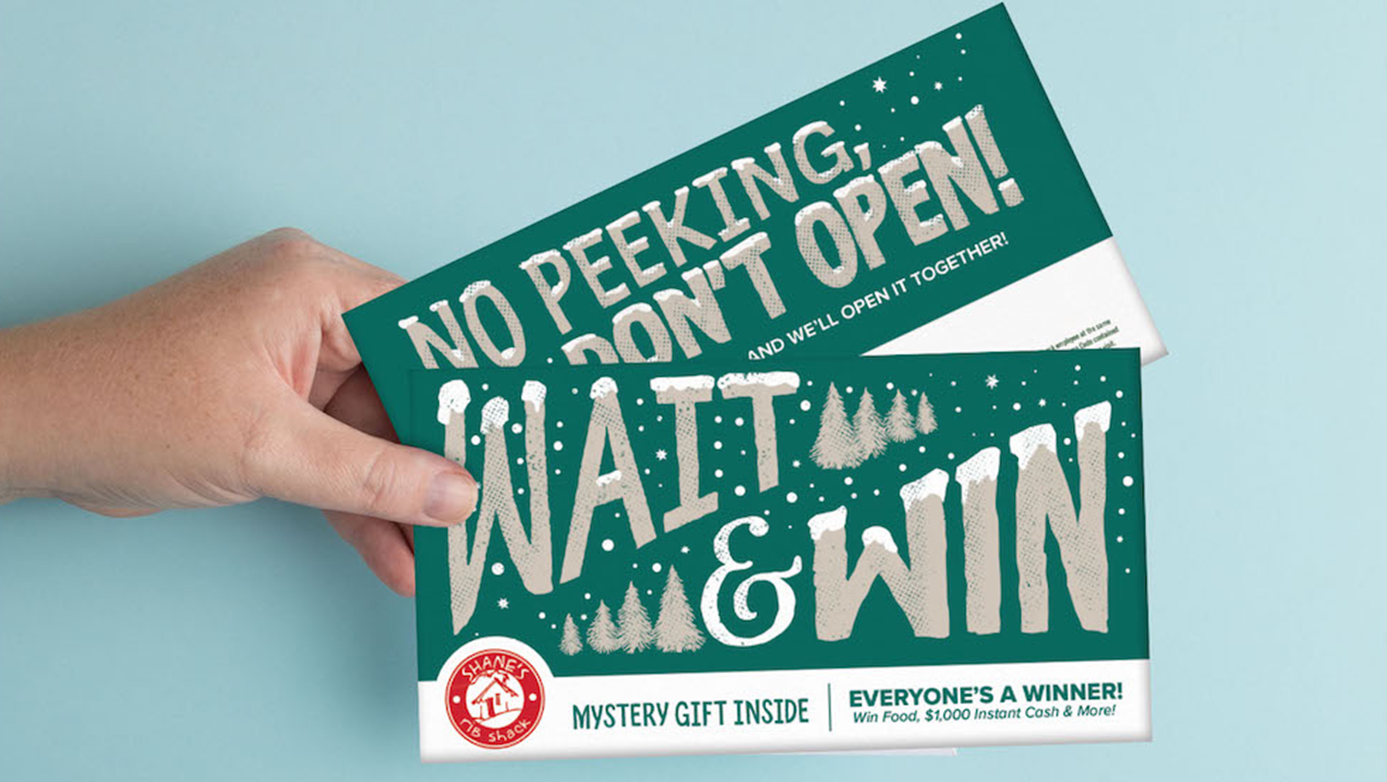 SHANE'S RIB SHACK TO GIFT MORE THAN $1.4 MILLION DOLLARS IN PRIZES. CHRISTMAS COMES EARLY FOR LOYAL SHANE'S RIB SHACK CUSTOMERS WITH ANNUAL 'WAIT & WIN' HOLIDAY GIVEAWAY. 
ATLANTA, GA (November 28, 2019) – Everyone's a winner at Shane's Rib Shack! During the month of December, to honor customers for their loyalty throughout the year, those who dine at Shane's Rib Shack will receive a sealed, Wait & Win Mystery Gift Envelope. Each Mystery Gift Envelope contains a winning prize and a unique code to enter into the cash Grand Prize Drawings of $20,000 and $10,000.
To redeem their mystery prize, customers are then invited to return to Shane's Rib Shack with their unopened, Gift Envelopes anytime during January or February 2020. Mystery Gift Envelopes contain exciting prizes, such as, $1,000 CASH, Shane's Rib Shack gift cards, Limited Edition Shane's T-shirts, Bottles of BBQ Sauce, as well as, delicious, FREE menu items. 
Upon redeeming their Mystery Gift Envelopes, customers will have the opportunity to enter into the Shane's Grand Prize Drawings. This year, two lucky customers will be taking home CASH; $20,000.00 and $10,000.00! Grand Prize winners will be randomly generated by a computer as denoted in the official rules.   
Shane Thompson, founder of Shane's Rib Shack, believes the gift is in the giving, as he states, "We attempt to out-do ourselves every year with our Annual Holiday Wait & Win Campaign, to honor and recognize those who continue to be devoted to our brand year after year. Our customers look forward to it and start asking about it in early November." During this year's 10th Annual Holiday Wait & Win Campaign, Shane's Rib Shack will give away more than $1,400,000.00 in prizes combined! Everyone's A Winner!
Follow Shane's Rib Shack on Facebook or Instagram for more prizes you could win in this year's Holiday Giveaway and to find out how you can get a 'BONUS' Grand Prize Entry. Stay tuned for updates on the live reveal of the Grand Prize Winners as well (March 2020). 
For more information, a list of participating locations, and a copy of the Official 10th Annual Holiday Wait & Win Campaign Rules, click here. 
###
About Shane's Rib Shack
Shane's Rib Shack (Shane's) is a true American rib shack, known for its slow-smoked ribs, hand-chopped pork, chicken and many southern sides to complement each plate. Founded in 2002 in McDonough, Ga., Shane Thompson started The Original Shack featuring his grandfather's secret BBQ sauce. Since becoming a franchised restaurant in 2004, Shane's has grown to become the country's model fast-casual barbecue concept. In 2015, Shane's Rib Shack was named one of the Daily Meal's Best BBQ Chains and was also featured in the Wall Street Journal. Shane's was recognized in the Top 100 Movers and Shakers by FastCasual.com, and for two years in a row, Nation's Restaurant News ranked Shane's customers among the Top 25 most loyal in the country. For more information, visit www.shanesribshack.com.
Back to News Updates