Check Out This Recent, Great Review From Our Shane's Rib Shack In Boca Raton, Florida!
Shane's Rib Shack Fast Casual Restaurant Boca Raton
by Mark | Posted on June 19, 2014
425 Views
# 1
Our lunch today consisted of some comfort food at Shane's Rib Shack in Boca Raton. Shane's is a 'fast-casual' restaurant where you order at the counter and take a number to your table and they deliver your food to you.  Today it was fairly busy but the ordering process went quick.  The menu specializes in smoked meats like ribs, chicken and pork. They also have smoked chicken wings (whichare really good) and salads as well.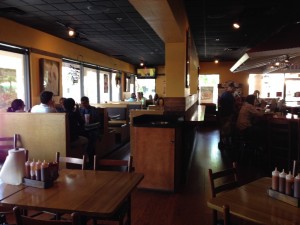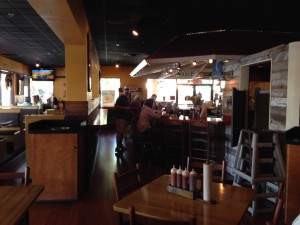 (Image Source: ftltoday.com)
It's actually a good menu for both lunch and dinner and most people will find something they will like.  My co-worker today ordered the Chicken Salad Sandwich with potato salad and I ordered the four piece chicken tenders, fried (you can get them grilled as well) with green beans.  We also put placed a chicken sandwich order 'to-go' for someone back at the office that couldn't join us.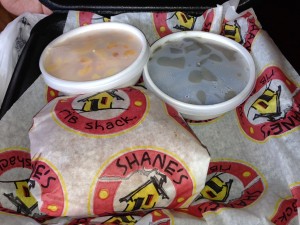 (Image Source: ftltoday.com)
We took our numbers and found a seat by the window.  Inside seating consists of some booths and tables with a bar section as well.  They were painting today so they had a few tables out of service so it was a little more tight than usual.  Sodas are self-serve which means free refills along with ice tea.  Plastic utensils are also self-serve so don't forget to get your setup before you sit down.  The décor is typical BBQ with lacquered wood and a 'rustic' look.  The restaurant always looks clean and today was no exception.  Wesettled in and sipped our drinks while we waited for our food.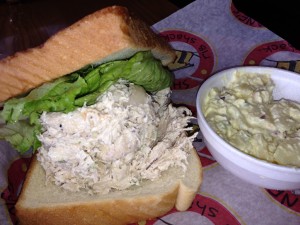 (Image Source: ftltoday.com)
The "fast" part of fast casual took a bit longer than usual…maybe due to a few large parties that had arrived ahead of us.  Azalea's chicken salad sandwich came out first.  A huge scoop of chicken salad between Texas toast looked really tasty.  Made with smoked chicken, she said all it needed was a little salt.  She felt there was the perfect amount of mayo and this has become one of her favorite menu items.  She also really liked the potato salad and recommends it.
My chicken tenders came out next.  I ordered four, but on a future visit I would probably only get three.  I was really full by the third one, but didn't want to leave one.  They are lightly breaded with a mild flavor.  Since there is no skin, you are saving some calories on this version (most chicken tenders do not have skin actually) and getting them grilled saves even more calories if you are watching those.  I chose lemon pepper sauce but asked for it on the side so I could control the amount used.  The sauce was ok, but needed a bit more lemon flavor.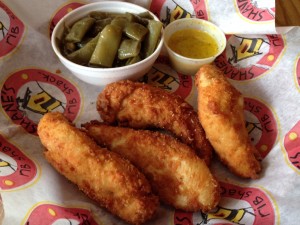 (Image Source: ftltoday.com)
I switched the fries that they normally are served with for green beans.  Their version of green beans is the wider flat version which I liked.  They were served in the water they are cooked in and stayed very hot through my meal.  They were not seasoned, but a little salt and pepper (and BBQ sauce) did the trick.  I usually always switch up what I order here and also really like their wings…smoked and grilled. 
I've been to Shane's Rib Shack many times and have never had a bad meal.  The smoked meats are always full of flavor and the portions are always more than enough.  The service can be slow, but this fast casual is still quicker than a full service restaurant.  The to-go orders come nicely wrapped and retain the heat well.  While it might not be the best BBQ in the area, it's a good solid choice for a quick chain restaurant meal.
Shane's Rib Shack is located at 2240 NW 19th St Boca Raton, FL.
View the original article in its entirety here: http://ftltoday.com/shanes-rib-shack-fast-casual-restaurant-boca-raton/ 
Back to News Updates