Newnan Local, Michelle Potts, WINS with Shane's Rib Shack as Part of the Annual "Holiday Wait & Win" Promotion!

PHOTOS COURTESY OF SHANE'S RIB SHACK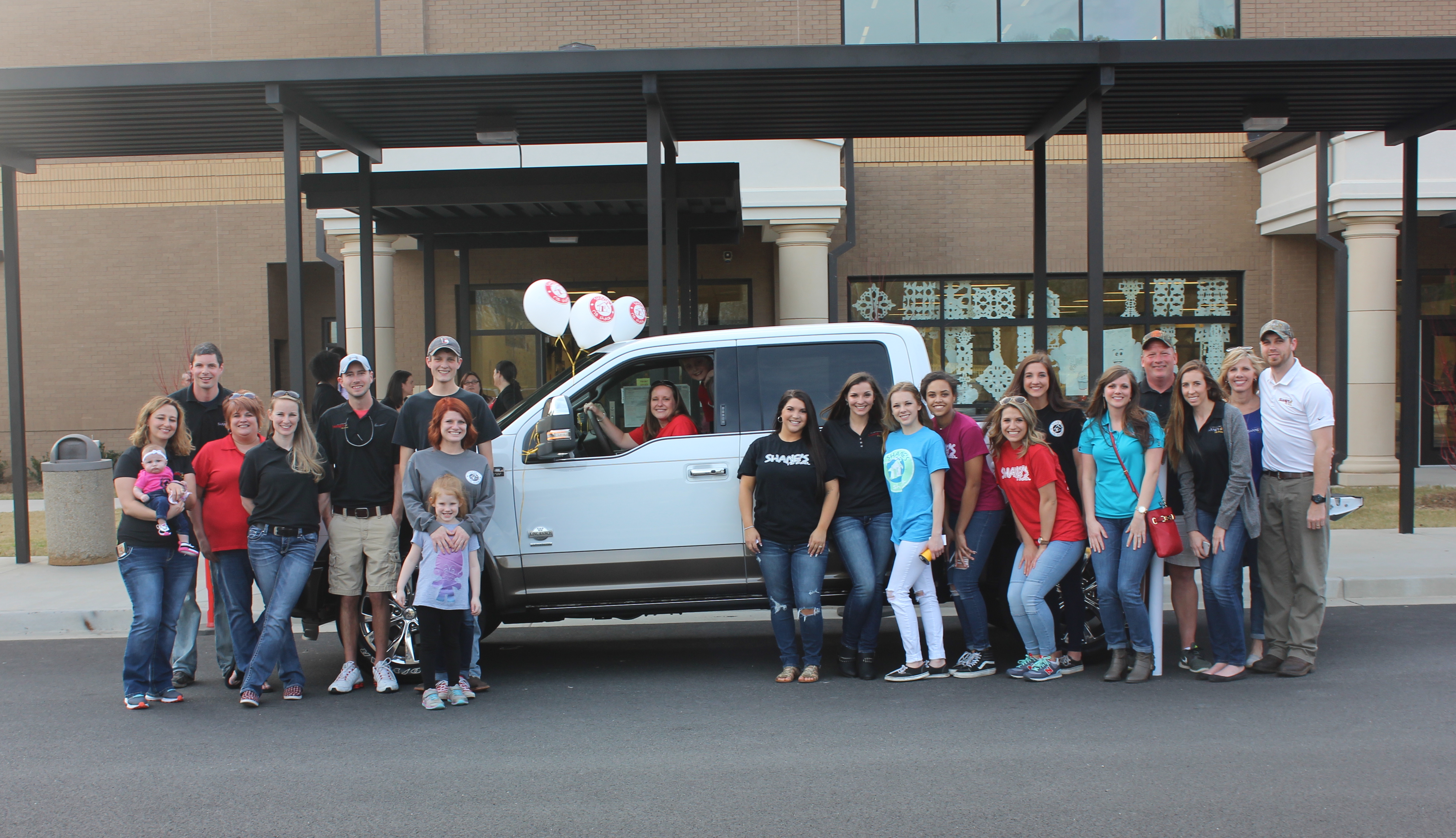 Michelle Potts sits in her brand new truck surrounded by Evans Middle School
faculty and Shane's employees.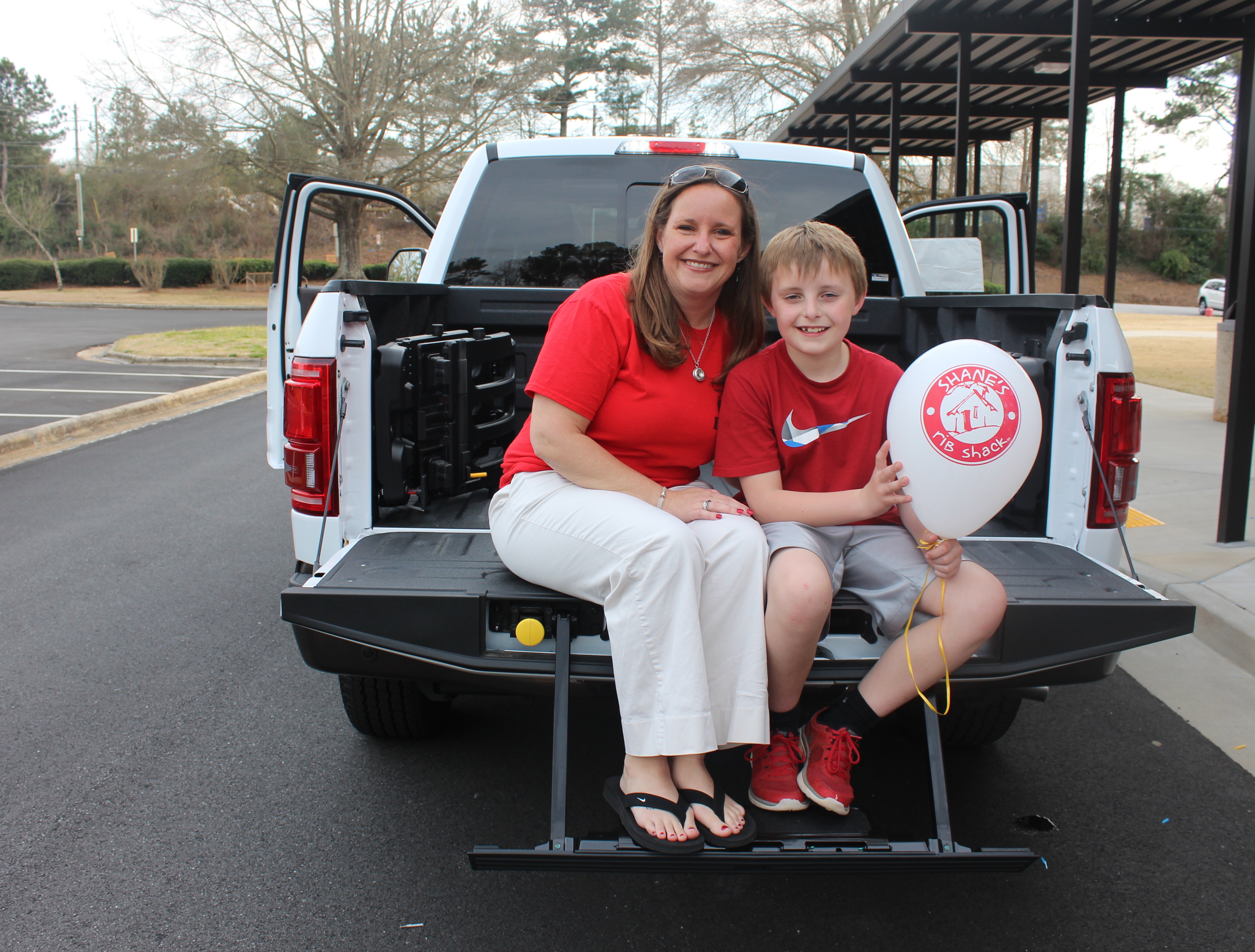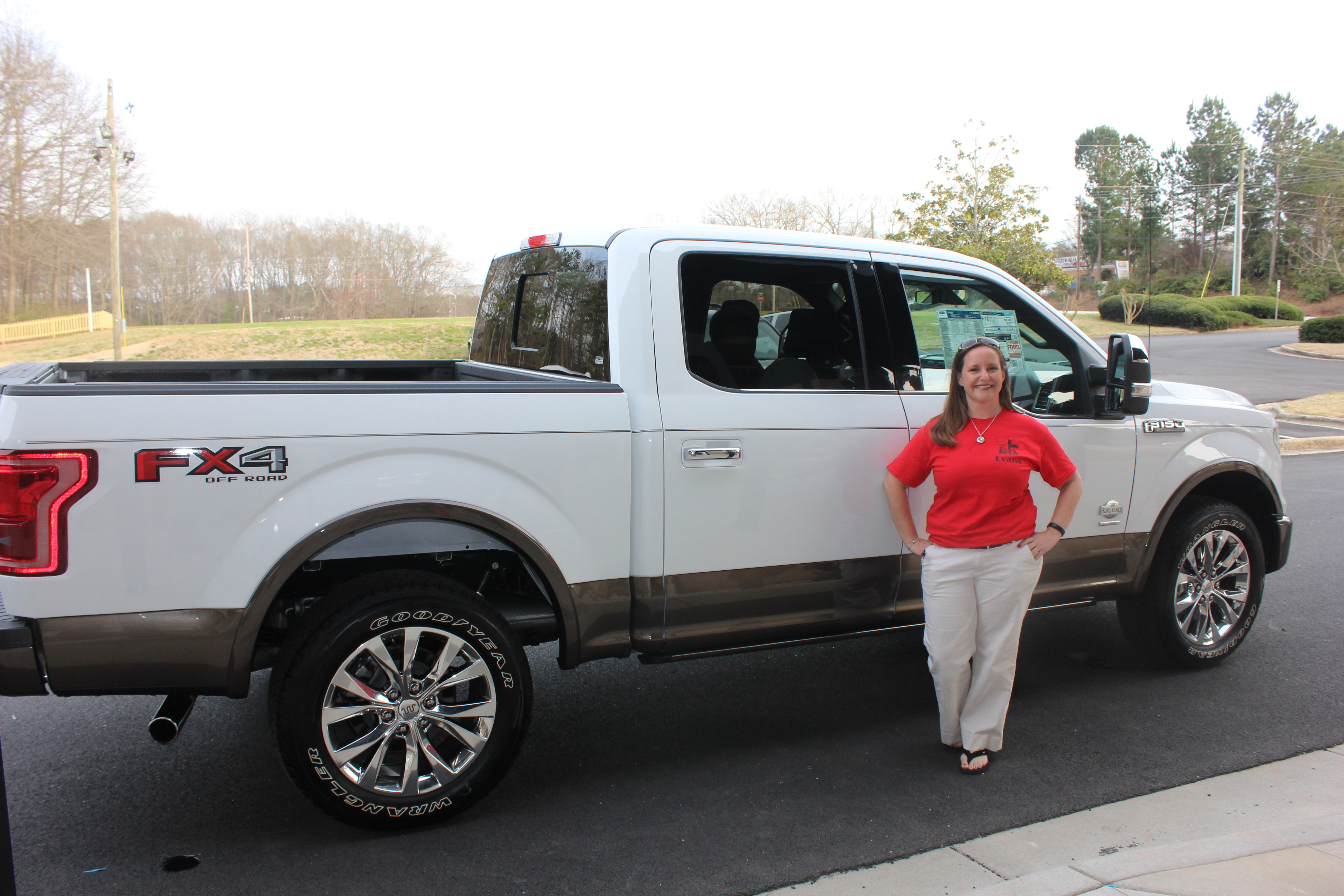 Coweta local Michelle Potts won big by eating barbecue this past December at Shane's Rib Shack. 
In March, Potts won the grand prize of a 2016 Ford F-150, 4x4, King Ranch Edition Truck and free Shane's Rib Shack for a year, through the barbecue restaurant's promotion Holiday Wait & Win.

Potts was selected at random from more than 91,000 entrants nationwide.Shane's Rib Shack's speciality is barbecue and southern side dishes. 
Through the promotion, each time a guest dined at Shane's Rib Shack in December, they received a mystery envelope sealed with a prize inside. Guests couldn't open their mystery envelopes until January or February and redeem prizes, which usually included free food. 
Potts said she is a regular diner at Shane's.
"Me and some friends eat there often on Sundays after church," said Potts. "When you get the envelopes, you never know what you're gonna win, but it's usually free food."
Potts said she and a friend entered two codes at the checkout counter back in February when it was time to see what prizes they had won.
"One of the codes was for chicken salad," said Potts. "I didn't realize the second code was for a truck. I thought it was just for free food for a year."
Unaware of her brand new truck she would soon receive, Potts said a friend helped Shane's coordinate to deliver her prize.
"They contacted a friend of mine via facebook" said Potts. "They were asking here where I worked and other stuff about me. A girl from Shane's called my administrator at work to set up the presentation at our faculty meeting."
Potts added she was not suspicious of the visitors that were present at the meeting.
"We have people to come in to speak to us about different things," said Potts. "One of the representatives from Shane's asked us who did the rewards program. I was the only one who raised my hand. He said really just one? My friend beside me raised her hand and told him she participated, too. He asked me my name and I told him. He then told me that was my new truck outside the window. I immediately said, no it's not. I kept waiting for Ashton Kutcher to show up, because I thought I was being punk'd."
Punk'd is a MTV television series hosted by Ashton Kutcher where hidden cameras capture the reactions of people who are are having a practical joke played on them.
"I was so surprised," said Potts. "This will just be an extra car for me. I just bought a car a few months ago. My son is 10 years old and keeps saying it will be his truck one day. We'll have to just see about that."
Potts said that the taxes, tag and title fees were all covered.
"It's a blessing from God," said Potts.
"In the true spirit of the holidays, our annual Wait & Win promotion engages our loyal customers and provides them with a chance to win fantastic prizes," said Shane Thompson, president and founder of Shane's Rib Shack in a press release.
 "The look on Michelle's face when we showed up at Evans Middle School, where she works, and announced she had won the grand prize truck was exactly why we give back to our fans. We look forward to providing benefits to our loyal fan base for years to come that could change their day or their year."
Five additional winners nationwide won free food for a year.
View this article in The Newnan Times-Herald here. 
Back to News Updates