SHANE'S RIB SHACK FOCUSES ON SUSTAINABLE GROWTH; EXPERIENCES HIGHEST SYSTEM-WIDE SALES IN COMPANY HISTORY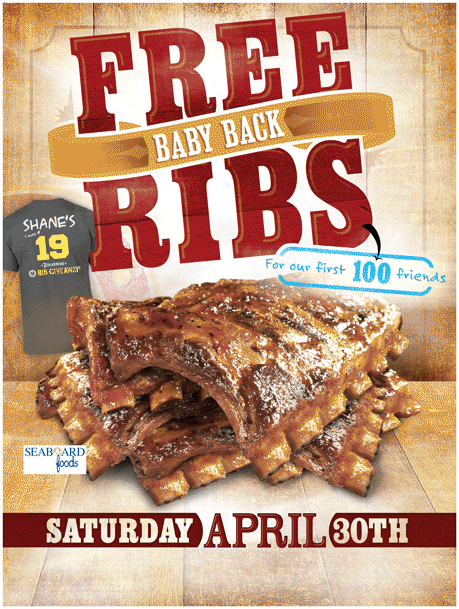 ATLANTA (April 1st, 2015) – According to the International Franchise Association's Franchise Forecast, franchise businesses will grow at rates that exceed the economy in 2016. While many chains measure success by units sold, Shane's Rib Shack has experienced its best 12 months to date by focusing on the performance of existing locations and not on the number of stores.
"Our goal is not to be the largest fast-casual BBQ restaurant, but the highest performing. If we have a franchise location that is not performing well, we assess and address the situation immediately," says Shane Thompson, president and founder of Shane's Rib Shack. "Our level of commitment to each of our stores is unparalleled in the industry. We focus on what is best for the brand long term and as a result, we are experiencing our highest system-wide sales figures since we started franchising 12 years ago."
Focusing on sustainable growth in the Southeast, Shane's Rib Shack will grow by 20 percent in 2016. The company's relationship with local suppliers, distributors and community members allow for new and existing franchisees to share the benefits of joining a regional franchise company.
Fan Appreciation Event
As a thank you to its loyal fan base and the communities in which the restaurant serves, Shane's Rib Shack will host its seventh annual Rib Giveaway on Saturday, April 30. The first 100 guests at participating locations will receive a free half rack of slow-cooked baby back ribs, a 20-ounce beverage and special edition Rib Giveaway t-shirt to kick off summer BBQ season.
"Our fans have been so loyal to us throughout the years and we want to take the time to tell them how much we appreciate their support. Our continued success is not possible without their devotion," continues Thompson. "Shane's Rib Shack comes from humble beginnings and we work to stay true to our roots. The Rib Giveaway gives us the opportunity to take a step back and see just how far we've come from that tiny shack in McDonough, Georgia 14 years ago."
For more information or to find a nearby location, visit www.shanesribshack.com.
###
About Shane's Rib Shack
Shane's Rib Shack is a true American rib shack, known for its slow-cooked ribs, hand-chopped chicken and pork, and many southern sides to complement each plate.  The original shack was founded in 2002, in McDonough, Ga. by Shane Thompson, who started the restaurant with his grandfather's secret BBQ sauce.  Since becoming a franchised restaurant in 2004, Shane's Rib Shack has grown to become the country's model fast-casual barbecue concept. In 2015, Shane's Rib Shack was featured in the Wall Street Journal and in 2011, Shane's Rib Shack was recognized as a Top 100 Movers and Shaker from FastCasual.com. Shane's Rib Shack currently operates 70 locations.  For more information, visit http://www.shanesribshack.com.  
Media Contact 
Jason Gilbreth
Trevelino/Keller
Jgilbreth@trevelinokeller.com
404-214-0722 x114
Back to News Updates