Shane's Rib Shack in Enterprise named "Master of Alabama BBQ"!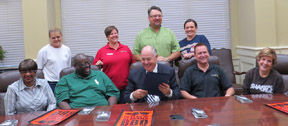 'Master of Alabama BBQ'
Representatives from Enterprise restaurants featuring barbecue on their menus met with Enterprise Mayor Kenneth Boswell to recognize November as the Month of Alabama Barbecue in Enterprise, in conjunction with the Alabama Tourism Department's declaration of this year as the Year of Alabama Barbecue. In front, from left, are Shelley and Madison "Big Daddy" Terry, owners of Big Daddy's Real Pit BBQ; Boswell; Jamie Baker, owner of Shane's Rib Shack and Paula Drumm, manager of Shane's Rib Shack. In back, from left, are Sherry Smith, owner of Richie's BBQ; Natalie Sumrall, manager of Good to Go; Rick Cutts, owner of Cutts Restaurant; and Grace Narron, owner of Larry's BBQ.
Back to News Updates