Shane's Rib Shack Launches Its 6th Annual Holiday "Wait & Win" Promotion Rewarding Loyal Customers!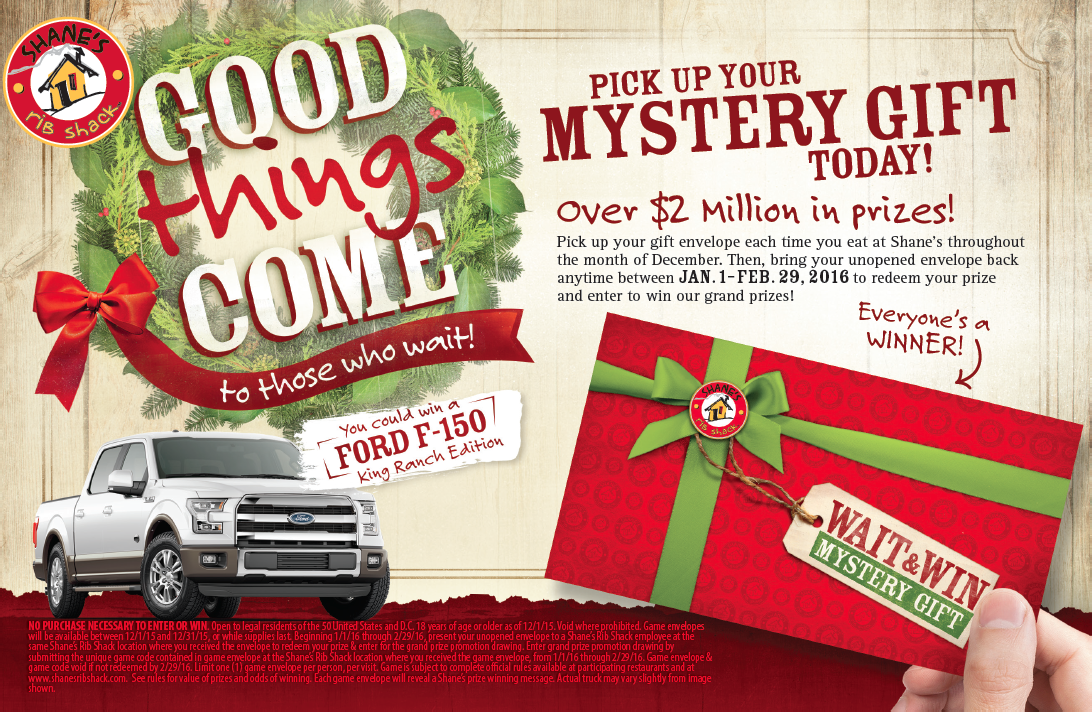 SHANE'S RIB SHACK LAUNCHES ITS 6TH ANNUAL HOLIDAY "WAIT & WIN" PROMOTION REWARDING LOYAL CUSTOMERS!
Over $2 MILLION in prizes – Everyone's a Winner!
ATLANTA (December 1, 2015) – Beginning December 1, Shane's Rib Shack is rewarding its customers for their loyalty with the launch of their sixth annual Holiday "Wait & Win" Promotion. In December, each time a guest eats at a participating Shane's Rib Shack he or she will receive a "Wait & Win" envelope that is sealed with a holiday gift from Shane's.
Each Shane's Rib Shack location will distribute their "Wait & Win" sealed envelopes beginning December 1st and ending December 31st, 2015. The unopened envelopes may be redeemed anytime between January 1st and February 29th, 2016 at the same Shane's location where it was received. All envelopes must be brought into the restaurant and opened by a Shane's Rib Shack employee in order to qualify. One "Wait & Win" envelope per person, per store visit while supplies last. Remember, "No Peeking!"
Inside each winning envelope, there is a prize. Several national grand prizes will be awarded this year, valued at over $66 THOUSAND dollars, including a 2016 Ford F-150 truck, King Ranch Edition and five winners of FREE Shane's Rib Shack for a year. Additional prizes feature a variety of many delectable Shane's prizes including delicious Baby Back Ribs, BBQ Pork and Chicken, Shack Salads, Wings, Homemade Peach Cobbler, Shane's Gift Cards, Shane's Special Edition T-Shirts and more!
"Rewarding customer loyalty will always be one of Shane's Rib Shack's top priorities. The "Wait & Win" Promotion is one way we can thank our customers this holiday season," says Shane Thompson, president and founder of Shane's Rib Shack.
For more information and the official rules, visit www.shanesribshack.com.
###
About Shane's Rib Shack
Shane's Rib Shack is a true American rib shack, known for its slow-cooked ribs, hand-chopped chicken and pork, and many southern sides to complement each plate. The original shack was founded in 2002, in McDonough, Ga. by Shane Thompson, who started the restaurant with his grandfather's secret BBQ sauce. Since becoming a franchised restaurant in 2004, Shane's Rib Shack has grown to become the country's model fast-casual barbecue concept. In 2015, Shane's Rib Shack was featured in the Wall Street Journal and in 2011, Shane's Rib Shack was recognized as a Top 100 Movers and Shaker from FastCasual.com. Shane's Rib Shack currently operates 72 locations. 
Back to News Updates