Shane's Rib Shack Launches Peachy Perfection Campaign!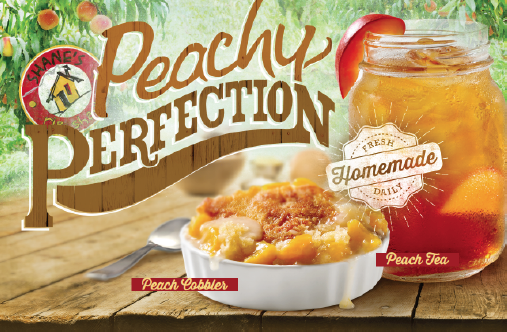 SHANE'S RIB SHACK ANNOUNCES LAUNCH OF ITS PEACHY PERFECTION CAMPAIGN
Featuring Shane's homemade Peach Cobbler and Peach Tea
ATLANTA, GA (August 1st, 2015) Today Shane's Rib Shack launches its Peachy Perfection Campaign nationwide, lasting until the end of October, at all Shane's Rib Shack locations. The campaign is centered around Shane's specialty peach menu items: homemade Peach Cobber and Peach Tea. The two are the perfect complements to any meal and a great treat to top off the summer!
Shane's homemade Peach Cobbler, a staple menu item, is prepared from scratch daily. The cobbler's delicious peach filling is topped with the perfect layer of crust and scooped fresh, right out of the pan to every guest. Shane's Peach Cobbler is now available in three sizes: regular, large, and pint.
Shane's Peach Tea is brewed freshly throughout the day. The peach flavor adds a unique twist from Shane's famous Sweet Tea. The refreshing taste is one that you will love!
Please visit a Shane's Rib Shack location near you to try Shane's homemade Peach Cobbler and signature Peach Tea!
To receive exclusive text offers and rewards, be sure sign up for Shane's loyalty program on your next visit or at shanesribshack.com.  In addition, like and follow Shane's Rib Shack on Facebook at facebook.com/shanesribshack to become eligible for even more "Peachy" specials.

###
 
About Shane's Rib Shack
Shane's Rib Shack is a true American rib shack, known for its slow-cooked ribs, hand-chopped chicken and pork, and many southern sides to complement each plate.  The original shack was founded in 2002, in McDonough, Ga. by Shane Thompson, who started the restaurant with his grandfather's secret BBQ sauce.  Since becoming a franchised restaurant in 2004, Shane's Rib Shack has grown to become the country's model fast-casual barbecue concept. In 2015, Shane's Rib Shack was named one of the Daily Meal's Best BBQ Chains and was featured in the Wall Street Journal. In 2011, Shane's Rib Shack was recognized as a Top 100 Movers and Shaker from FastCasual.com. Shane's Rib Shack currently operates 73 locations.  For more information, visit http://www.shanesribshack.com.  
Back to News Updates