Shane's Rib Shack Opens 5th Henry County Location Today!
SHANE'S RIB SHACK ANNOUNCES GRAND OPENING OF NEW MCDONOUGH, GA LOCATION
Join the fun – win free ribs, a Big Green Egg, caterings for 10, and much more at the weekend celebration
MCDONOUGH, GA (April 23, 2014) - Shane's Rib Shack, a leader in fast casual barbecue, will open its fifth Henry County location, making it the forty-first Georgia location and 70th restaurant nationwide, on April 23rd in McDonough, GA.  The new restaurant should create more than 40 new jobs for the area.  The ribbon cutting will be on Wednesday, April 23rd and the grand opening celebration will take place Saturday, April 26th.
To celebrate the opening, Shane's will have thousands of dollars in giveaways.  The first 100 customers in line on Saturday, April 26th, will receive a free half rack of slow-smoked baby back ribs.  We will also have a live DJ broadcast throughout the day, a prize-wheel with tons of giveaways, & face painting along with a meet and greet with company founders, Shane & Stacey Thompson.  And for those who enter free raffles any time throughout the day, they will have a chance to win one of four free caterings for 10 guests and a grill that every barbecue connoisseur would love to have – The Big Green Egg!
"McDonough is part of the barbecue heartland, and we are very proud to add an additional Shane's Rib Shack location to the scene," says Thompson. "We started in a tiny shack south of Atlanta in McDonough, GA (on the corner of East Lake Road and Hwy 155) selling slow-smoked barbecue basted in my grandfather's secret sauce.  We are all about great food, incredible service and a commitment to the community.  We are looking forward to the opportunity to serve the city and people whom have done so much for us over the past 12 years!"
The McDonough location will be at 2148 Hwy 20 West. McDonough, GA 30253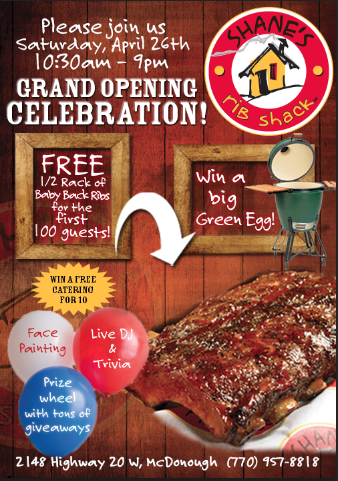 ###
About Shane's Rib Shack
Shane's Rib Shack is a true American rib shack, known for its slow-cooked ribs, hand-chopped chicken and pork, and many southern sides to compliment each plate.  The original shack was founded in 2002, in rural McDonough, GA by Shane Thompson, who started the restaurant with his grandfather's secret BBQ sauce.  Since becoming a franchised restaurant in 2004, Shane's Rib Shack has grown to become the country's model fast-casual barbecue concept.  In 2011, Shane's Rib Shack was recognized by Fast Casual Magazine's 2011 Top 100 Movers and Shakers, and in 2010, Shane's was recognized by "Inc. Magazine 5,000," as one of the fastest growing, private companies in America.  Shane's Rib Shack currently operates 70 locations throughout Georgia, Florida, Arizona, New York, Tennessee, South Carolina, North Carolina, Alabama, Louisiana, Virginia, Maryland, and Kentucky.  For more information, visit http://www.shanesribshack.com. 
Media Contact:
Rachel Turk-Settle
Shane's Rib Shack
Director of Marketing
678.283.2387
Back to News Updates