Shane's Rib Shack Opens Its 5th Henry County Location!
Shane's Rib Shack is preparing to open its 5th Henry County Location on Wednesday, April 23rd.  On Saturday, April 26th, Shane's Rib Shack of HWY 20/81 will be celebrating their Grand Opening with a full day of family-fun activities including a live DJ, Face-Painting, & chances to win tons of giveaways!  They will also be raffling off a Big Green Egg & FREE caterings for 10 people!  Shaniacs of the Henry County community are ecstatic to have another Shane's in the neighborhood!  Now, the best BBQ in town can be all over their town!
We look forward to seeing you, your family, and friends on Saturday, April 26th from 10:30am-9pm!  You don't want to miss out on a chance to celebrate with Shane's!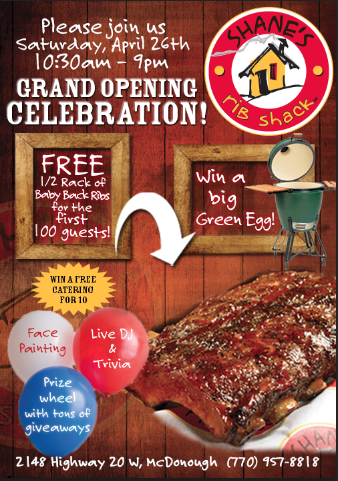 Back to News Updates