SHANE'S THANKS THE MEN AND WOMEN BEHIND THE BADGE
Shane's Rib Shack Honors Local Law Enforcement with 2018 Police Appreciation Week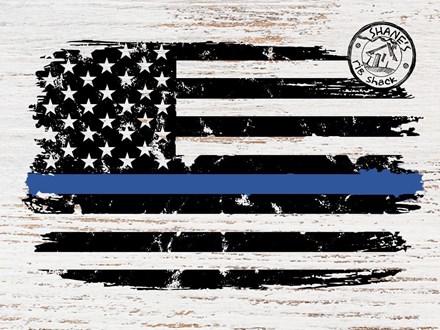 ATLANTA, GA (August 22, 2018) Shane's Rib Shack locations, nationwide, take great pride in recognizing the brave, local heroes within their communities. That being said, the All-American rib shack plans to host its second Shane's Backs the Blue: Police Appreciation Week during the month of September. Local law enforcement are invited to visit and enjoy a complimentary sandwich of their choice, regular side, and a 20oz. drink beginning September 9th– 16th, 2018.  Free meal certificates have been distributed by Shack Crew Members to local Police and Sheriff's Departments. Please see list of Participating locations.
"Police Appreciation Week is our way of saying 'Thank You' to the wonderful men and women, who selflessly protect our communities 365 days a year. Last year, we had the opportunity to provide over 22,000 free meals to active, local law enforcement!", states Founder and CEO, Shane Thompson.
Shane's Rib Shack also plans to provide their guests with postcards, that they may utilize to share words of encouragement and thanks. September 15th is Thank A Police Officer Day, so be sure to stop by your local Shack to thank an officer for their service and commitment!
Highlights from 2017 Police Appreciation Week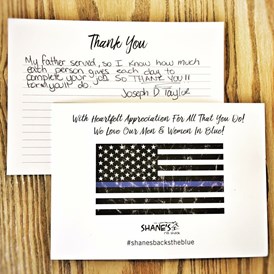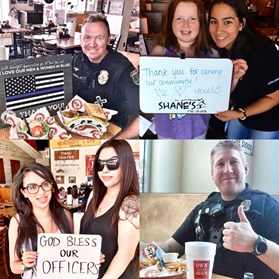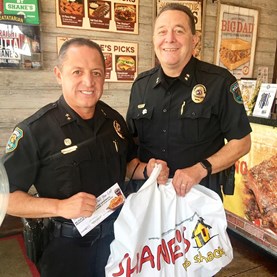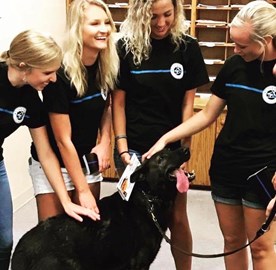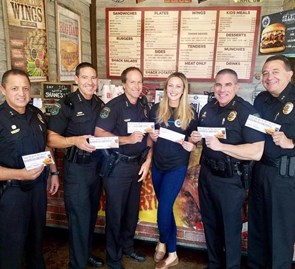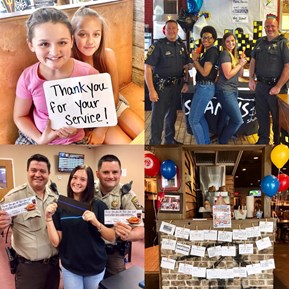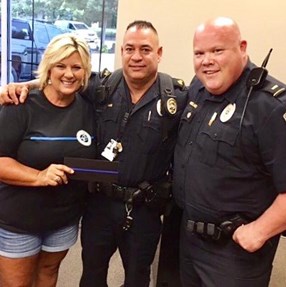 About Shane's Rib Shack
Shane's Rib Shack is a true American rib shack, known for its slow-smoked ribs, hand-chopped pork, chicken, and many southern sides to complement each plate. The Original Shack was founded in 2002, in McDonough, Ga. by Shane Thompson, who started the restaurant with his grandfather's secret BBQ sauce. Since becoming a franchised restaurant in 2004, Shane's Rib Shack has grown to become the country's model fast-casual barbecue concept. In 2015, Shane's Rib Shack was named one of the Daily Meal's Best BBQ Chains and was featured in the Wall Street Journal. Shane's Rib Shack was recognized in the Top 100 Movers and Shakers by FastCasual.com. For more information, visit www.shanesribshack.com.