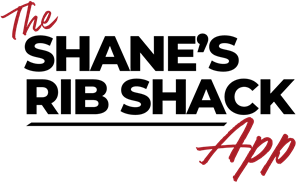 Frequently Asked Questions
How does the Shack Rewards Loyalty Program work?
Earn 10 Points for every $1 spent at Shane's and redeem your points for your Shack Favorites! Earn when ordering in-app, in-store, or online (order.shanesribshack.com). For in-store orders, have your app QR code ready to scan before you pay for your order. Tap "Earn" located at the bottom left of your app for your QR code to appear & Scan at the register. If you forget, you can scan in the barcode on your receipt up to 7 days after your visit. Points are automatically added to your account when ordering in the App or online as long as you are signed in. Orders placed as a "guest" will not earn Points.
How can I redeem my points?
In the "Rewards" tab of your app, tap "Redeem Points" to see the Shack Rewards that you have unlocked. You may use your points to redeem any unlocked rewards or save up your points to redeem later. Redeem in-store, online, or in-app!
If I am already a current loyalty member what happens to my visits?
All guests who have visits are able to transfer their Shack Rewards Account to the app and turn the visits into points. Learn more about Transferring your Shack Rewards account here: www.shanesribshack.com/rewardstransfer
I downloaded the app and selected "Transfer Visits" but it's telling me an account already exists? How Can I Transfer my Shack Rewards?
If you have ordered online before, you likely created a Shack Rewards account there. No worries though, that just means you're one step ahead, to Transfer your Shack Rewards, simply sign-in and you will be sent a verification security code to verify your account. For help, go to the "More" tab in your app and tap "Need Help", then "App Feedback" to contact customer support.
I transferred my Shack Rewards at sign up, but I do not see my bonus points in my account.
In order to transfer your Shack Rewards, you will need to enter the 6-digit verification code sent via text message to your loyalty phone number. To resend the verification code, tap "Resend Code" on the Migration screen. To find the Migration screen, navigate to the "More" tab, tap "My Account", then "Migrate points and rewards". Note: points may take 24 hours from the time the verification code is entered to appear in your account.
I did not receive the verification code text that was sent to my phone when I signed up (to transfer my Shack Rewards account visits).
To resend the verification code, tap "Resend Code" on the Migration screen. To find the Migration screen, navigate to the "More" tab, tap "My Account", then "Migrate points and rewards". If you do not receive the code or need further assistance, go to the "More" tab in your app, tap "Need Help" then "App Feedback" to contact customer support or email appsupport@shanesribshack.com.
I want to Transfer my Shack Rewards but what if I have visits at more than one location?
Your visits from all locations will be combined together & transferred into your app account!
I am getting a reminder when I open my app to enter my verification code, but I did not receive a text with the code.
Guests who migrate with a home phone number (or a phone that cannot receive text messages) won't receive a verification code to transfer and will need to click on "Need Help" then "App Feedback" found in the "More" tab of the app or email support at appsupport@shanesribshack.com to have points added to your app account.
Are there any items that are excluded from earning points?
The following items are excluded from earning points: Alcohol, Merchandise, Gift card purchases, Orders via a 3rd Party.
Can I earn points on catering orders?
Yes, guests may scan receipts from catering orders and earn up to 1,500 points from Catering Orders. The maximum earning on catering orders is $150 dollars.  
How are my points calculated?
Points are earned based on the subtotal (subtotal excludes taxes and discounts). Points are rounded to the nearest whole dollar using standard rounding rules (example: $10.49 = $10 (100 points) example 2: $10.60 = $11 (110 points).
I didn't receive my points when I made a purchase. Why?
Points can take up to 4 hours after a purchase to appear in your account. The "Account History" found in the "More" tab shows how many points you have pending.
I paid for my order and forgot to scan my app. Can I still get my points?
Yes, you can earn points by scanning the barcode at the bottom of your receipt or manually enter the unique barcode number into the app or online. Tap "Earn" at the bottom of your app screen. From there, select "Scan Receipt Barcode" for your camera to be accessed. If you are experiencing difficulty scanning the barcode, select "Enter Receipt Barcode Number" to enter the unique barcode from your receipt. Please note that the barcode from your receipt may be scanned or entered in manually within 7 days of your purchase.
I paid and picked up my online order. How do I get my points?
Once you are signed into the app or online, you won't need to do anything else to receive points for your online order. Points are added to your account automatically as long as you are not checking out as a "guest".
Will I still receive points if I order delivery through a third-party delivery service?
Orders placed through third party vendors such as Doordash, UberEATS, Grubhub, etc. currently do not earn points.
Why is the app asking for my location data?
Location data is used for 3 reasons: 1) To link you to the Shane's location that you are checking in at 2) To find the nearest Shane's to you, and 3) If you happen to be near a Shane's location, we may send you a special offer. We do not use your location data for any other purpose.
I recently moved. how can I change my 'Favorite Shack' location?
Navigate to the "More" tab, select "Locations", scroll and click on location and Guests may select one favorited shack at a time. Note: your "Favorite" location will always show up at the top of the list when ordering in the app.
If I set a favorite Shack, can I still earn and redeem points at another shack location?
Yes!
Are add-ons included in rewards/offers?
Most add-ons are extra - ask a Shack Crew Team Member if you have any questions!
I had an offer in my app but now it's gone.
Once an offer has expired, it will no longer be visible in your app. (Note: offers that are only valid at a specific location may not be visible when ordering at a different location.)
Do I lose my rewards points if I click "Redeem Now" but don't redeem the reward at that time?
No, your rewards points will be returned to your account if you do not complete a purchase at that time.
I received a digital gift card; where can I see it in my app and how can I use it?
Digital Gift Cards are located under the "More" tab within the App. To use a digital gift card, you will scan it at the counter during checkout. If you are ordering online, you will select the digital gift card as your payment on the checkout screen.
Can I send a digital gift card without having the app?
No, both the sender and the recipient of the gift card will need to download the app to send and to redeem in-app digital gift cards.
Do my points expire?
Points last 365 days from your last visit, so you'll have plenty of time to redeem them!
Do I receive a gift for my birthday?
Yes, you will receive a Free sandwich of your choice offer 7 days before your birthday. The offer will be valid 14 days from date received. 
How many points do I receive if I refer a friend?
100 points will be rewarded to you once your friend creates an account and makes their first purchase.
​