Shane's Rib Shack Salutes Troops With Military Appreciation Week
---
Shane's will provide  Military personnel and Veterans  with a  FREE Sandwich  Combo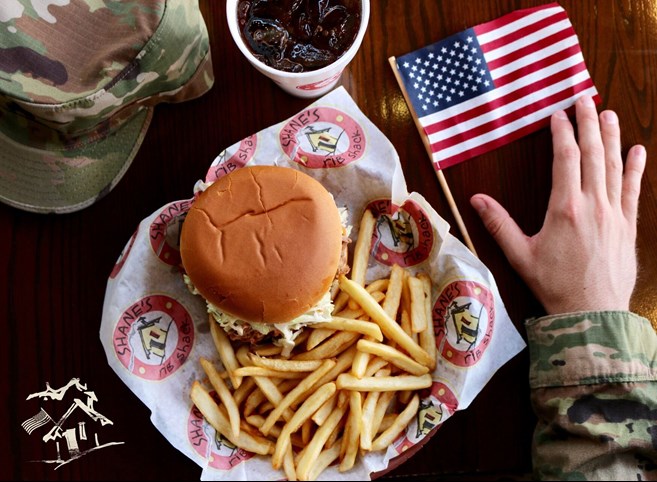 ATLANTA, GA  (October 15, 2018) Shane's Rib Shack is passionate about serving those who serve others. The All-American rib shack will honor active and retired members of the Armed Forces during their upcoming Military Appreciation Week, November 4th through November 11th. Participating Shane's Rib Shack Locations*, will provide military personnel with a complimentary sandwich, regular side, and 20-oz. beverage; offer valid November 8th through November 10th only. Military ID or proof of service is required.  
Local "Shaniac", Captain Carter, United States Army, states, "Being an Officer in the Army taught me to ensure that my Soldiers were well taken care of. Being deployed, away from our families made this even more important. It makes me very happy and proud to know that while I no longer lead Soldiers that there are others who are helping to take care of our servicemen and women, like Shane's by hosting their Military Appreciation Week." 
In addition to offering a free meal to military personnel, Shack Crew members will proudly wear "We've Got Your 6!" limited edition t-shirts, to show their steadfast support.  Patriotic-themed coloring sheets have been designed for children to decorate, and Shane's Rib Shack will also be participating in  The Bert Show's "The Big Thank You"  Operation, by assisting in collecting hand-written letters that will be sent overseas to deployed soldiers for Thanksgiving. Participating Shane's Rib Shack locations will act as a letter drop-off location.  
Knowing that not all Veteran heroes will be able to visit a participating location during Military Appreciation Week, Shane's Rib Shack also plans to go out into their communities to serve local veterans a free meal, while thanking them for their ultimate sacrifice. Through this initiative and in visiting VA hospitals, nursing homes and veteran support organizations, Shane's hopes to create meaningful connections with the community and veterans.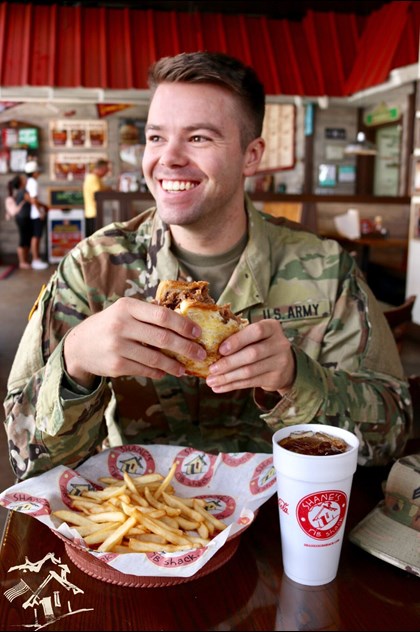 During November 2017, Shane's had the privilege of partnering with the Rob Jones Journey, to assist in raising awareness for wounded Veteran charities. To learn more about Shane's Rib Shack's partnership with the Rob Jones Journey and Rob's back-to-back marathon challenge, Click Here.