promotion details & rules
July 1 - July 31, 2022
First, to qualify for entry, participants must download the Shanes Rib Shack App and opt-in for text and push notifications. Individual entries include check-ins at any Shane's Rib Shack location, and/or friend referrals in the app.
Guest must check-in with their Shack Rewards account each visit. For in-store orders, guest may check-in* at the register at the time of order or scan their receipt into their Shack Rewards app after ordering. Orders placed in the Shane's Rib Shack App or Online, while signed into your Shack Rewards account, will automatically receive a check-in visit. 
There is no minimum spend per check-in to count as a check-in entry for The Big APPle Giveaway. Valid only on orders placed at a Shane's location, or on a Shane's Branded platform such as the Shane's App (app.shanesribshack.com) or Shane's Online Ordering (order.shanesribshack.com). Orders placed via 3rd Party Ordering sites will not count as a check-in and are not included in promotion. 
For a friend referral to count towards entry, the friend must be a new Shack Rewards account user. The friend (new Shack Rewards user) must use your specific friend referral code in your app at the time of app download and sign up, and make a purchase either in-app, in-store, or online. 
For full promotion details, view the Official Rules.
---
QUALIFYING for GIVEAWAY ENTRIES
Opting-In for text and push notifications
Check your text opt-in status 
Open app and select the "MORE" tab. 
Select "My Account" 
Underneath your phone number, there will be a message indicating whether you are subscribed to SMS text offers, or if you are not.
Opting-in for text notifications as an existing user 
Select the "MORE" tab from the home screen in the app 
Then select "MY ACCOUNT" at the top left hand corner.
Make sure email and push notifications are turned on. (Should be Toggled to the right)
Text "START" to 21241.
Opting-In for text notifications as a NEW user
At the "Sign Up" page when creating a new account, select "Yes" to text offers & alerts.
Then reply "START" to the text confirmation.
---
Entering in for the Grand Prize
Every Check-In = 1 Grand Prize Entry, Every Friend Referral= 1 Grand Prize Entry
Check-in using the app 
Scan the "EARN" QR code located in the "EARN" tab of the app at the time of ordering (prior to checkout).
-or- 
    2. Scan Receipt in app within 7 days of receipt date. Scan in "EARN" tab.
Users without smart phones may also check-in online by logging into their Shack Rewards Account and entering their receipt barcode. 
STEPS: 
Visit www.shanesribshack.com/rewards, scroll down and select "I'm Back, Sign Me In". 
Sign-in using your Shack Rewards email and password. 

NOTE: If you have previously created an account when ordering online, the same login credentials are used to access your Shack Rewards account on all platforms (the App, Online Ordering, or Website).

Select "Check-In" 
Enter the barcode located at the bottom of your receipt, scroll down, and select "Submit" 
For Help, tap "More"--> "Need Help"--> "App Feedback" in the Shane's App and submit a request to App Support, or email appsupport@shanesribshack.com directly. Be sure to include the name on your Shack Rewards account and email associated.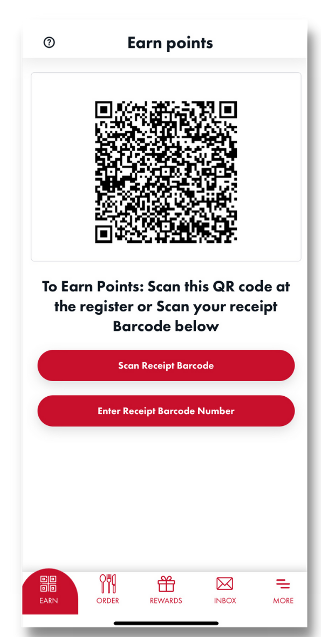 refer a friend in the app 
Select the "MORE" tab of the app. 
Select "Refer a Friend" at the top righthand side. 
There will be a specific code in red. You can either copy this code and send to a friend to use, or invite them directly by selecting the red "invite" button in the app. 
In order to qualify as an entry, your friend must use your referral code upon app download and make a purchase.