The Shane's Rib Shack App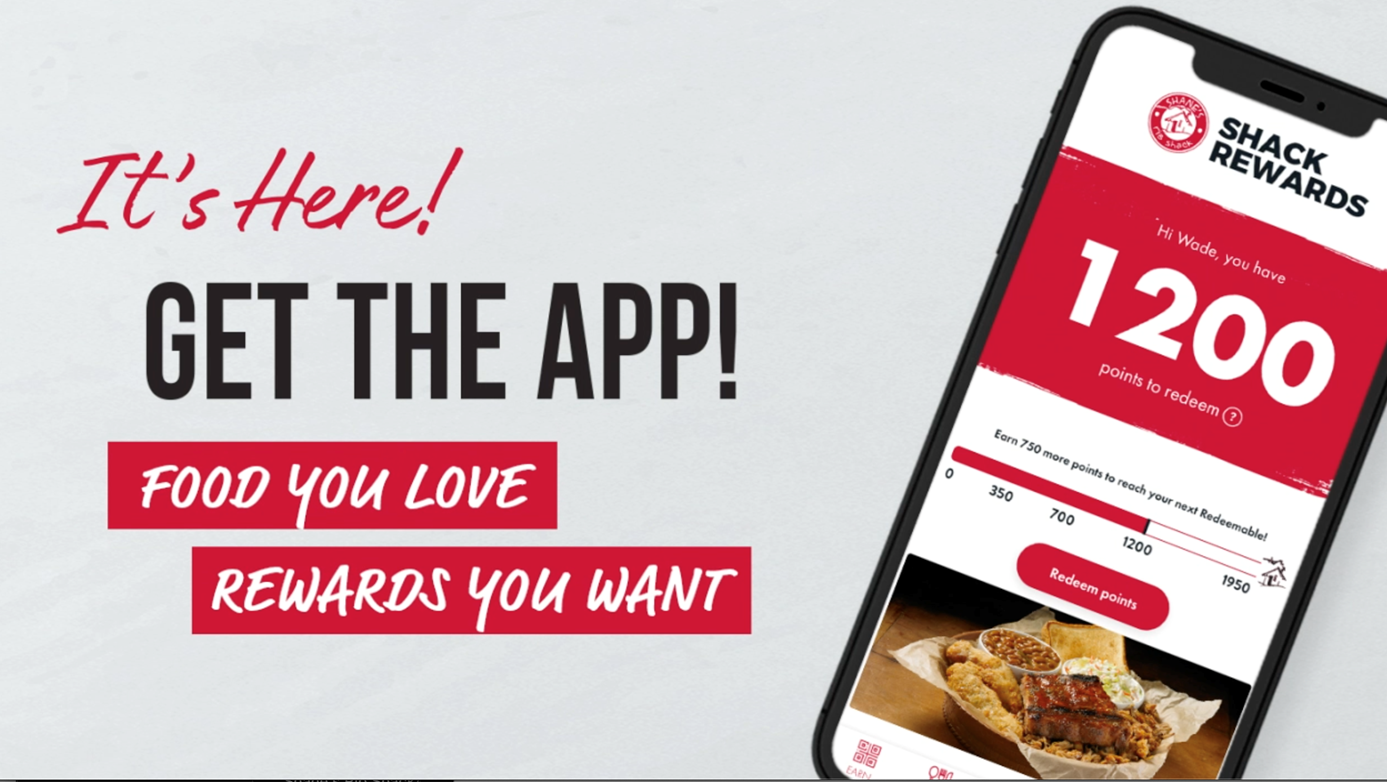 The Shane's Rib Shack App is finally here!


The Shane's Rib Shack App is our new and enhanced rewards program that gives our loyal customers the ability to earn points with every purchase.
You can become a member by creating an account online or by downloading the Shane's Rib Shack App through the App Store or the Google Play store.
Rewards members can receive points by placing an order through the Shane's Rib Shack App, by online ordering at order.shanesribshack.com, by scanning their QR code at the register, or scanning the barcode at the bottom of their receipt at checkout. Earn points for every purchase and use them to redeem available rewards of your choice. Each purchase gets you closer to the next reward.
If you are a current rewards member, don't worry you can transfer all of your visits over to the app. To learn more about transferring your visits click here.
How Does It Work?
Download the NEW Shane's Rib Shack app in the app store. 
Sign up for the Shack Rewards program (if you are a current member of our loyalty program, make sure to tap "Transfer Shack Rewards" at sign up).
Select your favorite location so that you don't miss out on any exclusive offers or news. 
Turn on Notifications - this is how you will stay in the know.
Earn Rewards - earn automatically when ordering thru the app or online as long as you are signed into your account. When ordering in-store, scan the barcode on the bottom of your receipt after placing your order or scan your app "Earn" QR code at the register.
Use your points to redeem items of your choice, whenever you choose! Rewards can be redeemed in-app, online, or in-store. 
To Redeem in-app or online: add the items to your cart and select the offer from the dropdown menu at checkout or apply your coupon code. 
To Redeem in-store: Navigate to the "Rewards" tab in the app. Tap "Redeem" on the desired reward, then "Redeem Now" & scan your QR code at the register.
Repeat - the more you eat, the more you earn!
For more awesome details about the Shane's Rib Shack App click here.

New Benefits We're Excited About:
Rewards members received a Free Sandwich when signing up!
Points can be used to redeem available rewards or members can choose to save their points for redemption later!
Members can customize and save favorite orders for quick and easy in-app ordering!
Every rewards member receives a Free Birthday Sandwich!
Rewards members can send and receive digital gift cards in the app!
Rewards members may receive exclusive offers from their favorite shack location

Frequently Asked Questions:
Click here for our FAQ's and additional information about our Shane's Rib Shack App
Back to News Updates